No results were found for the filter!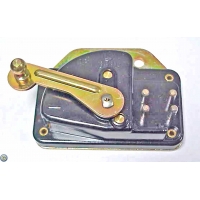 NEUTRAL SAFETY SWITCH
REVERSE LIGHT/START INHIBITOR SWITCH MOUNTED ON FIREWALL CONNECTED TO TRANSMISSION WITH CABLE. 230SL ONLY. NO LONGER SERVICED AT THIS PRESENT TIME.

TRANS. FILTER KIT
ALL METAL FILTER APPROXIMATELY 5.50 IN DIAMETER. WILL COME WITH PAN GASKET AND PLUG SEALS. FITS ALL 230SLs AND 250SLs WITH TRANS. # UP TO 006749 AND THEN WITH TRANS. # FROM 009936 UP TO 023010. AFTER THIS, USE KIT # 27-2010.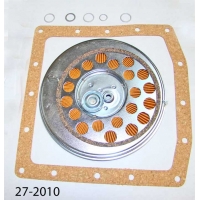 TRANS. FILTER KIT
METAL FILTER WITH PAPER INSERT APPROX. 6.75 IN DIAMETER. 230 & 250SL FROM TRANS. # 006750 UP TO 009935 AND THEN FROM 023011 THRU 280SL END.

INSPECTION PLATE
REMOVABLE GRILL PLATE ON BOTTOM OF BELL HOUSING. HELD WITH 2 SCREWS. ALL WITH AUTOMATIC TRANSMISSION.

REAR TRANSMISSION FLANGE
YOKE/FLANGE ON REAR OF TRANSMISSION. SAME FOR AUTO. & STANDARD SHIFT.

SHIFT LEVER BUSHING
BUSHING ON EITHER SIDE OF SHIFTER HOUSING CUP FOR AUTOMATIC SHIFTER SELECTOR. 2 PER CAR FOR 230SL FROM 12-013330 THRU 250 & 280SL ALL WITH AUTO TRANS.

SHIFT BUSHING
PLASTIC BUSHING ON BOTH ENDS OF SELECTOR ROD GOING FROM SHIFT LEVER HOUSING TO SIDE OF TRANSMISSION. 2 PER CAR, AUTOMATIC TRANSMISSION ONLY.

SHIFT LEVER
all Models Automatic except early 230sl NEW, CHROME, SPLINED TOP FOR KNOB. FOR 230SL FROM CHASSIS # 013330 THRU 280SL END.